Beginning Sewers
My favorite machines for those just learning to sew is the Brother CS6000i and Brother SQ9185.
Both machines are computerized  which I think creates a smoother and more consistent sewing experience than the less expensive mechanical brother machines. If you can afford it, it is definitely worth the upgrade.
Both machines can be purchased at Wal-Mart, and the CS6000i is also available on Amazon and at many other locations.
These machines offer great accessories! Each comes with an extension table and a walking foot, which is a great advantage. They both also offer Speed Control which is priceless if you are just learning to sew.
Brother CS6000i
The CS6000i has a vertical spool pin which is great for regular sized spool threads and general sewing. It also comes with a hard protective case, which is a great benefit if you will be storing your machine in a common area or moving it around a lot. It is usually available for around $140.
Brother SQ9185
The SQ9185 is a quilting machine and is just a bit bigger. I like the larger sewing area and the flip down accessory storage compartment on the front of the machine. It also has a horizontal spool pin and is more versatile regarding the types of thread that can be used. This is my preferred machine, but it is not always available, and the price does fluctuate from $125 – $185. Walmart did just release the updated SQ9285 which is a fun purple color, but I haven't tried it yet.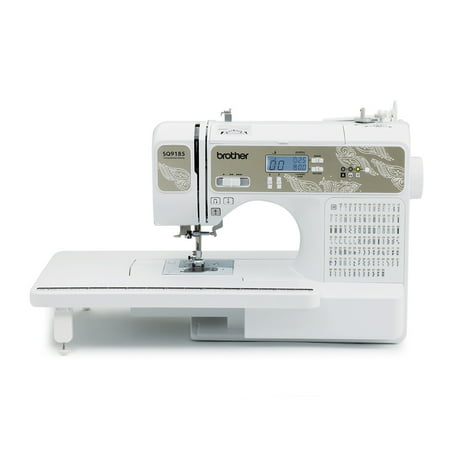 Both machines are AWESOME and will last for years if treated properly. I used my CS6000i for over 5 years of solid sewing before upgrading to a pricier option.